About the Tournament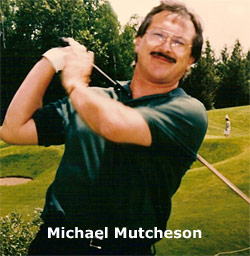 Not long after Michael passed away several of his close friends got together over a beverage (or two) to discuss how we might best remember Michael. Golf was one of his passions and we thought we might arrange a game for a few foursomes. As we discussed who should be included, the list of possible invitees kept getting longer as did our concern of alienating some who might not make our list.
We came to realize that Michael touched many lives right across the country and what started out as an informal get together morphed into the idea of a formal tournament where we might actually raise a few dollars to offer a scholarship to a high school student in Milton where Michael resided with his family.
These friends, none of which had much experience in organizing a tournament agreed to form a committee to make the tournament a reality. The "Group of Six" consisted of Claudine Davoodi, Tom Dorey, Peter Foster, Ian McConnell, Gary Peacock and Bob Prefontaine.
In 1995 the goal was to hold one tournament and raise a few dollars but we soon enough realized that we didn't really know how to get there. Gary suggested that he would ask Jeff Holden, who was working in his firm, to talk to us about organizing a tournament from the ground up. Jeff was heavily involved in organizing the Big Brothers of Toronto Golf Tournament and he proved invaluable to us in the very first year. Remember, we had no experience, no track history and no money! Jeff convinced us to aim high and try and make the tournament a mainstay of the insurance industry.
Our vision was to host the event at a municipal course in order to raise money for a scholarship or two. He talked us into hosting the event at a prestigious course and to establish a scholarship fund in Michael's memory.
As we were quite naïve we reached into our own pockets to raise enough for a down payment to reserve a date for the tournament at Emerald Hills golf course and for the cost of the very first give away which was a very classy embroidered shoe bag.
The following years were not always easy from the organizational and logistical perspective but come the day of each subsequent tournament we seemed to get it done and received many more compliments than complaints from those that participated in the events. Over time the "Group of Six" has disbanded with Gary's passing and Claudine's move to Montreal. The mantle has not been dropped however as Gerry Bouwman, John Lloyd, Joe Turcotte and Michael's son Christopher have joined the committee and have done the heavy lifting for the past several years. Hopefully with your support the Tournament and the fund will carry on for many years to come.
We have enjoyed tremendous support from the sponsors, the prize donors, the many selfless volunteers and the tournament participants. Your continued generosity is a tribute to you; first and foremost and to the memories that Michael still invokes after all these many years.
Thank you from all of us!
Committee Members
Amanda Sorsak, Chair
Christopher Mutcheson
Gerry Bouwman
John Lloyd
Darren Goldman
Joseph Turcotte
Peter Foster, Chairman Emeritus
Robert Prefontaine
Tom Dorey
Bernard McNulty